DIY hand-painted wall has been a lot of young people to accept, they are not willing to herd, their pursuit of self, in the family, and their personality, and the wall becomes the best position of their creative.
&ldquo - wall pattern; bright like "
Minimalist interior style has been in the past, be a trend which cannot be halted is concomitant wall paint and wallpaper beautiful, complex. A strong and eye-catching color pattern of the furniture and decorations collocation, people are attracted to " " &ldquo &rdquo, not less;.
Brushing suggestion: use a separate color painting walls, mosaic square, purple, red, brown, dark red and brown, full color. A good color match to determine the first on paper box, and then use a pencil, ruler and the mercury level in the wall and lays out a color measurement. Choose pure acrylic paint quality and environmental protection, to ensure lasting bright color.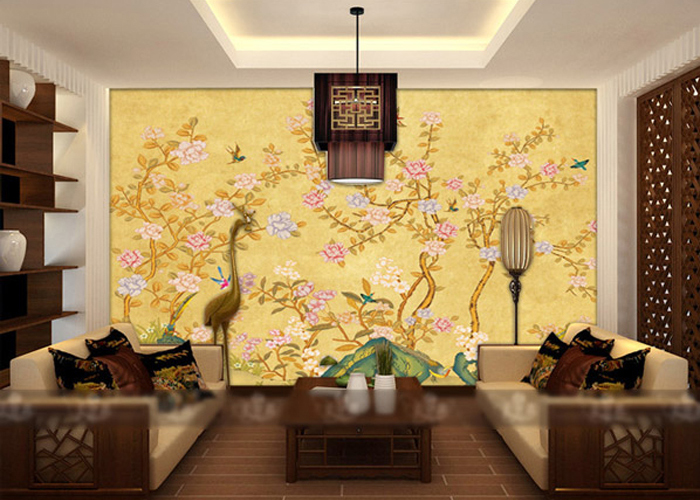 &ldquo - wall pattern; blue porcelain "
Inspiration from the blue and white blue and white porcelain, exquisite light blue and white decoration summer cold is suitable not only for the bedroom is also suitable for the winter.
Brushing suggestion: classic pattern choose a porcelain plate, to make the same white pattern blue screen in painting. Next put the antique chair is the same style of painting. The selection of high quality water soluble eggshell light and high light coating is very suitable for the renovation of the old furniture.
&ldquo - wall pattern; precious metal "
Metal decorative style still popular. Gold and silver collocation to create simple, luxurious style.
Brushing suggestion: in side walls theme wall wide stripes of gold and silver, intermediate stagger brushing refreshing white stripes. Then the fringe pattern also brush to landing the closet door, creating a streamlined visual effect. Aqueous metal gloss paint quality is the perfect choice for the walls and wooden furniture, they dry quickly and easy construction.
&ldquo - wall pattern; lime flower "
The deep and shallow yellow green always vulnerable to people not to move or retreat preference. This season's most notable is gentle, soothing acid orange. This color looks unassuming, and stone, Yan Maihuang, slightly deeper than the tobacco brown and chocolate brown together the best.
Suggestion: to stone wall painting as background, draw a flower in full bloom with acid orange, make a attract sb.'s attention theme wall. Pick the one you like most Floral Fabric, pick a flower from the wall, in outline, painting in the stone color background a sour orange flowers, can bring harmony, quiet feeling. Water pure acrylic paint quality is excellent choice, especially in painting the bedroom, fast drying, paint film can form smooth, durable.