some time ago to encounter a friend at the temple to work, the original is temporarily employed in government help to return to the original color of the temple, especially around the temple building some unique painting on the need to re draw. While the small was born in Jiangnan family, for the Soviet style paintings it become an independent school is also quite understand, here is to give you a brief description.
in China's ancient architecture, ancient architecture is an important part of it. Painting is commonly known as the " Dan ", and colored drawing is the ancient people draw decorative painting, in the ancient buildings is not only beautiful, but also have certain water proofing property, increase the service life of the building.
ancient painting is unique to China, has a long history, rich and colorful content, and a multitude of names, generally divided into three categories: sub - painting, painting and seal of the Soviet style paintings, there are other some techniques here but many studies.
1, Soviet style paintings:
Sue: originated in Suzhou, hence the name. For the park and the house.
Species: Soviet style paintings based on the amount of gold, halo retreat level and characteristics of non Fang heart burden gold Zhuomo Susu painting, painting, gold yellow line or line of Su Su, Su painting, painting the sea man dig, dig hoop hoop head take the burden of first six.
Burden: will pad, purlin, architrave together a composition, called burden in 1/3 middle outer semi circle drawn. The painting landscapes, figures, flowers burden, architecture, the theme is very flexible.
Cloud: the outer edge support burden drawn multilayer halo retreat, the inner layer outer layer called cloud, said holder or cloud support.
Hoop head: purlin end draw hoop head.
Clip: clip hoop head and between the burden and poly brocade painting decorative painting.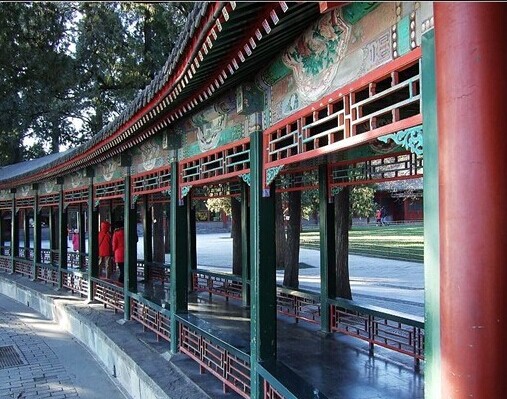 The Soviet style paintings 2, Fang Xin painting:
Goldfish: child when painting brush water then days, first in charcoal drafting, reoccupy white according to draft range and white, and then Zhang Dan and white when dry, according to the depth of goldfish take $wipe, after alum water embellish, with rattan, yellow, pink pearl, Vermillion in three colors with good, according to the goldfish the depth of dyeing, pink beads and ink Fish Save scales, block yellow white, little fish eye (yellow place black fish eye). Dyed water. Fish Lake, with wide black (i.e. Lake color). Draw the shades algae grass, grass, with duckweed with gamboge nanus depth appropriate color.
Draw a peach Liu Yan: sub white brush, brush it (upper with darkish blue ingot powder combined with blue sky color), lower brush Bai Runhe; dry with charcoal drafting, fragrant ink with good place for road in the bowl, the ink dry, too alum water, to peach Liu Yan staining.
3, the burden of painting:
Character: with a hard wipe it opened.
Landscape: ink color overlapping.
Flower: dyeing Yang wipe.
Floor diange: general use spindle powder, darkish blue together such as sky blue, a middle brush white embellish call heaven and earth to &rdquo ". The special use called " Wo gold " or the fragrance and color, green land. Then use Tantiao draw drawings of various needs.
4, smoke drawing:
Cloud: baggage around with continuous folding curved arc painting. Cigarette layers is subject to a singular, three, five, seven, nine.
Back: smoke is from shallow to deep halo retreat outside the deep, shallow, from shallow to deep retreat, commonly known as " back cloud ".
Cloud: cloud support peripheral, called &ldquo &rdquo, cloud; cloud support; support layers three to five, the color and cloud complexes, such as black smoke with shades of red base, blue smoke with pale yellow, apricot base, green cloud peixue Lavender holder or red base, red cloud with green Tuo zi.
Color: smoke under shallow deep, such as the case of hard cloud and base, must be wrong color save legs, called " inverted color ".
5, Jujin descriptive: peripheral poly Jin, can draw the animal shape, plant shape frame, Lek powder paste, painted in a variety of pattern.
6, plate painting:
Jin: first brush painted red (Zhang Dan) then the full brush vermilion, pull the colored squares Jin, Jin heart painted white chrysanthemum petals, then change the color snacks, Jin hoop rectangle powder or pull powder.
Antique: painted with chalk to draw the outline of the antique (such as bronze, ancient magnetic, text and other), then wipe with a dark or light colored Bogut, wiping lip, to draw the three-dimensional sense, re decorated variety pattern, according to the antique with seat, flower arranging different.
7, algal head drawing:
Algae can be dyed various floral leaf flower blooms: beasts of chalk outline shape, according to white, then open the ink had alum water, I dyed after each block powder.
8, the clip drawing:
Clip clip clip with a soft, hard points. Rom. the turning into a curve shape, hard for the rectangular shape. Green painting hard clip, green painted soft clip.
9, hoop head drawing:
Gold hoop head Zhuomo hoop head, sheet of gold hoop top form. Drawing method of green green after clip provided with same. Pay the hoop head close to the positive head, such as positive hoop head is blue, pay the hoop head is green, green, blue is paid. Then by gold; polish, pull the three green three green tinted. Gold after pulling large powder, by girder head brush hoop head, Qi martingale pull the black line, the stigma, Tuo head, brush Zhang dancho live, will head (wear plugs) approach, code it pressed powder old.
10, Tuo head drawing:
Tuo head picturesque line method, and the burden of line method with painted gold, Zhuomo box, Bie Zijin and gold watch clips with ink. In addition to dig draw Bogut lattice, and plate Bogut with help draw back or save, Tuo Jin can.
Jin Xiansu Drew: hoop head, clip, poly Jin, burden, line as the lek powder paste are called " gold Su painting ".
Huang Xiansu Drew: not Lek powder not gold and yellow line called " the yellow line Su painting "
Sue: beam waves draw Fangzhi ends draw die hoop head, big wood does not draw Fang Xin, algal head, clips, and draw all kinds of flowers or clouds (such as green thing clouds, green painted flowers) called " Su painting &rdquo waves;.